August 22, 2016
Thanks to the rain, the flowers along the sidewalk garden are looking renewed !
There are 88 birds at the Center.
16 birds are in flight cages, soon to be released.
 Last week 9 birds were released, including 2 humming birds,
We have successfully rehabilitated and released 181 birds this season!
Supervisor Gabby Costello
"I'm currently spending my fourth year at the Bird Center. Working here has allowed for the unique opportunity to help wildlife directly, and to do so alongside a wonderful group of hard-working people. Thanks to all of those that have helped us release birds this summer!"
Gabby takes a call from one of the many people who call the Bird Center every day with questions or for help with newborn House Finches whose nest has fallen from a tree, a Cardinal that's been caught by a cat, mama Mallard duck and her babies who are trying to cross the road, or a robin that flew into a window.
---
Family of Swans Killed in Washtenaw County
ANN ARBOR, MI – The Humane Society of Huron Valley (
HSHV
) is offering a $1,000 reward for information leading to the arrest and conviction of the person(s) responsible for intentionally driving over a family of Trumpeter Swans in Lodi Township.
A family of swans, including one adult and four babies, were reported dead around 8 a.m. Wednesday, August 17. They were found near a pond, numerous feet off the side of the road, near the intersection of Parker and Scio Church roads.
Law enforcement personnel examining the evidence believe the swans were intentionally run over. Based on tire track markings, experts suggest the vehicle was a Jeep or pick-up truck with 18-20 inch all terrain tires.
In addition to animal cruelty, because Trumpeter Swans are classified as a threatened species protected in the state of Michigan, HSHV together with the Washtenaw County Sheriff's Department and the Michigan Department of Natural Resources (MDNR) are conducting a joint investigation.
Adult pairs of Trumpeter swans often mate for life and generally have very strong family bonds.
"Whether our companion animals or wildlife, all animals have feelings and deserve our respect and empathy. There is just no excuse for this cruel act," says Tanya Hilgendorf, President and CEO of HSHV.
"We know there is a strong link between human violence and violence against animals. It is important we find out who did this not just because of what they did to this family of swans and the people who cared about them, but also for the safety of the community," says Hilgendorf.
HSHV asks that anyone with information please call the Washtenaw County Sheriff's tip line at
(734) 973-7711
or HSHV's 24-hour animal cruelty hotline at
(734) 661-3512
.
---
When I walked in, Swifts and Swallows were flying around the room, exercising their wings. The Swallows (left) have a home base where they fly to and land: a perch with water and mealworm treats. They are still being fed every half hour. (right) The Swifts fly back to their screen roost to rest. They are also being fed every 30 minutes, announcing that they are hungry with their really loud chittering They all came in as little babies and will be released into the wild, healthy and ready to go after one long month.
Let's see, how many feedings is that?
Caring for these birds is both labor intensive and a labor of love. THANK YOU to the interns and supervisors who make these little miracles  happen.
There are 3 Swifts in the photo. They are all from the same nest, but one is smaller and it likes to snuggle up in between its siblings.
---
DETROIT AUDUBON FIELD TRIPS
Swift Night Out at the Swift Sanctuary and Historic Winery
Saturday September 24 *  Sunday September 25 * 6 pm to Sunset * Swift Sanctuary in Farmington, MI
Join us with our partners at the Swift Sanctuary to watch the spectacular show as up to 50,000 Chimney Swifts swirl around and around like a tornado before the avian funnel cloud swirls right down into this historic winery. As far as we know this is
THE largest roost of Chimney Swifts in North America!
Bring a lawn chair to watch this incredible show! There will be a band, refreshments, a raffle, and tables to add to the festive atmosphere leading up to the grand mass descent of thousands of swifts into the chimney for the night. This event will help raise funds for the expensive upkeep of this historic chimney!
---
These Green Herons were found at Washtenaw Community College. Their nest had fallen down and one bird injured its wing during the fall. They were transferred to Howell Nature Center by an intern. They sound like newborn babies when they make their alarm calls and are quick to bite at fingers when they come too close to their nest bucket.
From a distance, the Green Heron is a dark, stocky bird hunched on slender yellow legs at the water's edge, often hidden behind a tangle of leaves. Seen up close, it is a striking bird with a velvet-green back, rich chestnut body, and a dark cap often raised into a short crest. These small herons crouch patiently to surprise fish with a snatch of their daggerlike bill. They sometimes lure in fish using small items such as twigs or insects as bait.
From the Audubon Bird Guide
It was early evening. I was sitting outside. The sprinkler was watering the garden. It was hitting the branches of a small tree. Something moved on the leaves of a branch.  The light was fading. It looked like a hummingbird but I couldn't quite tell!  I lifted my camera and took several shots, went upstairs and download the pictures onto my computer. Wasn't I lucky?
---
August 16, 2016
Dear Bird Center,
I was trying to time my visit to see the birds (and the humans) in between the torrential rainfalls we're blessed with. The rain let up a little and I made it to the car. By the time I arrived at the Bird Center the rain had stopped. Bailey, Esha and Lena were sitting outside finishing their lunch.
We have only about 100 birds at the Center, a sign that the nesting season is almost over and soon migration will begin.  Two of the Swifts were flying around the high-ceilinged room. There are 6 new swifts, 3 old enough to fly and exercise their wings, and 3 nestlings that look like little aliens, covered in new spiky feathers. Above, the 3 older Swifts hanging on their screen as a Barn Swallow looks on.
Interns will be leaving soon.
 Elizabeth leaves Aug. 16, Esha Aug 31, and Lena Aug 28.  We will serve cake at shift change on those days.  Please let Carol know if you can join us to say goodbye.
Intern Esha Biswas with a Swift
Message from Director Carol Akerlof:
Volunteers needed to do a load of Bird Center laundry.  As far as I can tell I am the only person doing laundry.  This entails at least one load per day and often as many as three!  This means that many of my family and BC duties are not getting done.  In the past we have offered $15 per laundry load and advertised for volunteers. Can you do a load of laundry?  If you see a bag of dirty laundry, grab it and take it home. Bring it back clean, and you will receive $15!
The Bird Center's table at Sasha Farm's Humane Fair last Sunday.
Board member Georgette Hanson, and Supervisors Gabby Costello and Rachel Gumpper are ready to answer all your questions about birds and work we do at The Center.  Gabby also volunteers at Sasha.
SASHA Farm is the midwest's largest farm animal sanctuary. At our shelter, not only do we provide food and water, veterinary care and a roof over their heads, we also give the animal residents affection, social interaction with others of their own species, and a sense of security.
The sanctuary currently shelters over 200 animals, each with its own story to tell. Some were dumped and discarded, some left to die. They have come from unhappy circumstances, often mistreated or neglected, but now have a safe, permanent home at SASHA Farm.
 VISIT Sasha Farm! It is a peaceful place, with chickens, geese, cows, cats, dogs, donkeys, mules, horses, pigs… did I forget the goats? All existing together with the help of many volunteers, like Gabby.
Website:   Sashafarm.org
UPDATE ON THE HORNED LARK
A Horned Lark was found on one of the runways at the Detroit Airport. It had been blown down the runway by an airplane and was brought to The Bird Center by the airport's Wildlife Biologist.  It has tissue damage to the wingtips and is unable to fly, but otherwise is a healthy and a very, very lucky bird.
We have arranged for it to live at the Toledo Zoo as part of their Birds of the Midwest exhibit.
As always, we still need Saturday volunteers! Please feel free to stop by and help out for a hour or two! Your time is always appreciated! Thank you!
Enjoy the clouds and the rain, and the cool breeze!
August 7, 2016
On Wednesday, all 110 birds were moved from the Ann Arbor Animal Hospital back home to The Bird Center. .When I went to the Center on Wednesday morning, Volunteers Judy Lobato, Bee Freidlander, and Patricia Zimmer were delivering the first baskets, the incubators were there, and tables were being  moved into place. It was strange to see the room empty of birds and so very quiet.     A great big  THANK YOU to all the people who volunteered their time and their cars, transported birds to and from AAAH, and swept and cleaned Mary Street.
The first group of Barn Swallows were released!
Supervisor Rachel Gumpper tells what happened:
"As you may know, we released 5 of our swallows on Monday, August 1!  These are the guys that all of you have worked so hard to take care of and feed every 15 minutes. These birds would have died if they weren't brought to us and now thanks to you and all the care you gave them, they have a second chance 🙂
The release went perfectly. All five of them flew out beautifully and immediately integrated with the other wild swallows already there! I watched them for a hour before leaving and our birds would fly out above the water (hopefully catching bugs) just as well as the other swallows! If it weren't for their face feathers, I wouldn't be able to tell them apart from the ones who were already there.
I wanted to share some of the photos I took with you.  Here is the link to the pictures:
 If you zoom in on some of the pictures you can see what birds are ours based on the feathers! My favorite is a picture of one of our swallows in mid-landing next to a couple other swallows (he's looking right at the camera).
 I took videos too of the release that are really cool.  I'll put then onto the computer at the BC and you can watch them there if you want!
 Again, good work and lets keep it going through August!"
Rachel also gave me this impressive list :
Aside from the swallows, we have successfully rehabilitated and released several other birds this year! Here's a list of all the birds we have released in just the last two weeks !
 2 Blue Jays
2 Blue Birds
8 Grackles
6 Starlings
6 Robins
8 House Sparrows
1 House Wren
1 Downy Woodpecker
1White Breasted Nuthatch
I Mourning Dove
That's 41 birds including the Barn Swallows!
TO ALL THE VOLUNTEERS, INTERNS AND SUPERVISORS WHO HAVE CARED FOR THE BIRDS  THAT HAVE BEEN GIVEN A SECOND CHANCE, NOW FLYING SINGING NESTING MATING EATING BUGS SEEDS….
Aug. 2, 2016
Help prevent the spread of oak wilt; don't move firewood
Now that the season has shifted to August – well past the "no pruning of oak" time of year (April 15 to July 15) – there still are steps residents can take to minimize the spread of the deadly oak wilt disease.
Notably, Michigan Department of Natural Resources forest health experts say not moving firewood is critical to limiting oak wilt. Wood from oak wilt-killed trees can produce spores, which can infect healthy oaks if they're wounded in spring the following year.
According to Bob Heyd, DNR forest health specialist, oak wilt is a serious disease of oak trees. It mainly affects red oaks, including northern red oak, black oak and pin oak. Red oaks often die within a few weeks after becoming infected. Because white oaks are more resistant, the disease progresses more slowly.
"The spread of oak wilt occurs overland to new areas from April through July as beetles move spores from trees killed this year by oak wilt to wounds on healthy oaks next year," Heyd said.
"We need to stop that cycle, and that's why it's important for people not to move firewood for the rest of the summer and fall seasons," he said. "With the transport of firewood and other tree-related activities, you have to assume the risk is present, whether you live in metro Detroit or in the Upper Peninsula."
Once an oak is infected, the fungus moves to neighboring red oaks through root grafts. Oaks within approximately 100 feet of each other – depending on the size of the trees – have connected or grafted root systems. Left untreated, oak wilt will continue to move from tree to tree, progressively killing more red oak over an increasingly larger area.
"There are other oak problems that can easily be confused with oak wilt," Heyd said. "Unlike most other problems, oak wilt causes the tree to suddenly drop its leaves in July or August. In fact, an oak wilt-infected tree dropping its leaves can happen all the way up to fall."
Heyd advises residents who suspect their trees have oak wilt to first confirm their suspicion. "Once confirmed," he said, "you'll be given information on the variety of treatment options available."
---
 VOLUNTEER OPPORTUNITY
The Bird Center will have a table at the Ann Arbor Bird Show. If anyone is interested in promoting the Bird Center, please contact Linda Whiteaker at
lindafwhit@yahoo.com
or call
248-520-6003
.
You are welcome to attend as a visitor. Admission charges apply.
The AACBC Invites You to
Our 30th Annual
EXOTIC BIRD EXHIBITION
WHEN:  Sunday, 14 August, 2016 10 am to 3 pm
Featuring vendors selling terrific products
for your avian pals.
Raffles.
 Admission:  $3.00; children 12 and younger free
Where: 
Dawn Farm
, 6633 Stony Creek Rd , Ypsilanti , MI
Bird Watching Magazine HOW TO PREVENT WINDOW STRIKES
By Jennifer Horton
This article originally appeared in the April 2013 issue of BirdWatching
"At first glance, it looks like an insanely prolific morning of birding: 4,136 Song Sparrows, 3,632 Dark-eyed Juncos, 3,362 Swamp Sparrows, 2,532 White-throated Sparrows, and 1,417 Hermit Thrushes.
But the numbers don't represent living birds. They tally the birds that died after colliding with one Chicago building from the fall of 1978 to 2004. And a frightening number of birds of other species were also killed. In all, 31,705 individuals from 141 species were found dead at the building.
The story is similar across the country. Collision with manmade structures ranks second among causes of death among migratory birds in North America. (Habitat loss is No. 1.) Approximately 100 million birds die in collisions every year – some experts put the number as high as one billion.
Tall urban buildings aren't the only obstacles migrating birds face, though. Most of the windows birds collide with belong to houses. According to George Fenwick, president of American Bird Conservancy, a home may kill a dozen or more birds a year without the owner being aware. Daytime collisions typically occur for one of two reasons:
1. The window is reflecting the surrounding habitat, and birds can't tell the difference.
2. The window is transparent, and birds see through it to appealing objects on the other side.
Even if the impact doesn't kill a bird immediately, it may be injured or stunned, making it vulnerable to predation later.
Nighttime presents its own challenges. Many birds migrate then, using natural light from the moon, stars, and setting sun as navigational tools. Our brightly illuminated cities and neighborhoods interfere with this behavior by letting artificial light leak into the atmosphere. The glow draws birds in, and they can become trapped. Once in a beam of light, they may be reluctant to fly back out, or become disoriented and pulled off course. Confused and exhausted, they often collide with buildings, homes, or each other.
But it doesn't have to be that way. Toronto, New York, San Francisco, and other cities have started lights-out programs aimed at persuading building owners to turn off lights from dusk to dawn during migration season. Results are promising. Lights Out Chicago, for example, has saved 10,000 birds annually. You can do your part to make the skies friendly for migrating birds by deterring window collisions and minimizing light pollution at your home. Below are some of the best products on the market for doing just that.
Three simple ways to prevent window collisions
Taking the simple steps listed below – in addition to deploying the products described on the following pages – will dramatically reduce the chance that birds will be harmed in collisions at your home.
1. Move feeders close to your windows – 1.5 feet or closer. From this distance, birds won't be able to build up enough momentum to hurt themselves if they do fly against the glass.
2. Close curtain and blinds when possible to break up the illusion of clear passage or reflected habitat.
3. Move houseplants away from windows. Birds may view them as refuges and try to perch on them."
The article also lists a number of products you can buy or make to prevent birds from hitting your window.
 HUMANE FAIR at Sasha Farm and Sanctuary    Sunday August 14
The Bird Center will have a table at Sasha Farm's Humane Fair.
Come to the Fair from 12-4PM. Visit with all the animals that have been rescued and now live at this amazing sanctuary and enjoy a Vegan lunch.
Open shifts. Saturday always needs help, so please take a couple of hours.
 Just show up and surprise those over worked interns and supervisors!!
MON  AUG  8           9-12PM
TUES  AUG  9          4-6PM
WED  AUG  10         ALL SHIFTS FILLED
 THU  AUG  11         9-12PM
 FRI    AUG  12          1-3PM    3-6PM  (or 1-4 PM and 4-6 PM)
 SAT   AUG. 13          all shifts open
 SUN   AUG  14          7-9PM
Have a pleasant week.  Enjoy the cooler weather!
August 2, 2016
Dear Bird Center,
On Sunday all the birds were moved to the AA Animal Hospital, the building
was cleaned and is ready for the August 2 City election.
Rachel Schwartz, Bird Center Volunteer Coordination Team, sent this message: I just wanted to thank everyone who came out Sunday to help out with the move to the Ann Arbor Animal Hospital. We had a great transportation and clean-up crew! Everything went very smoothly and we couldn't have done it without you!
If you couldn't come out today and would like to help with the move back to
the Bird Center on Wednesday, please let me know.
We are in need of people beginning at 10 am.
Thanks so much!
There are 110 birds at the Center as of July 29. The 6 older Barn Swallows are ready to go, and Bailey is waiting for clear weather so she can release them. UPDATE! The Swallows were released today!
 Supervisor Rachel Gumper is holding one of the 5 younger Barn Swallows. She was in the middle of feeding the Swallows, a never-ending job because they have to eat every 15 minutes.  A BIG thank you to all the Swallow Moms!!!
 Every season we take in a number of birds, often House Sparrows, with abnormal white feathers. The feathers are very brittle, and break easily.
It can take a long time for the new, healthy colored feathers to grow in and replace the damaged white ones. Poor nutrition or injury are 2 possible reasons for this condition.
I searched the internet and found almost nothing about this in wild birds, so
I emailed the Cornell Lab of Ornithology and asked them for information.
Below, one of our House Sparrows with abnormal white feathers.
SHERRI, do you have any information about this?
If anyone can take an open shift it will make everyone's work a bit easier
Thursday, Friday and especially Saturday are in need of help.
CALENDAR     open shifts
Wednesday 8/3   7-9AM   1:30-3PM
Thursday  8/4      1-3PM    3-6PM     6-9PM
FRIDAY 8/5       7-10AM    3-6PM   6-9PM
SAT 8/6              all shifts are open
SUN 8/7             7-9AM
MON 8/8           9-12PM
TUES 8/9         4-6PM
Everyone have a fine week! Soon we'll have our birds back home.
July 25, 2016
Dear Bird Center,
The heat persists. Gratefully, we've had a few showers but all the plants and animals are begging for a couple of days of soft, soaking rain. It was a relief to go to the Center and enjoy the little air conditioner, as I don't have AC!
138 birds are in residence at the Center. There are 11 barn swallows. 5 are juveniles, 6 are little nestlings whose nest was found on the ground. It was hoped the parents would come back and feed the babies, but after 3 hours they had not returned so they were brought to the Bird Center. They are all doing well!
Intern Ava Landgraf feeding a nestling Barn Swallow
We also have 2 Red Bellied Woodpeckers, and 3 juvenile Ruby Throated Hummingbirds.
As of July 23, the bird Center has released 95 birds back into the wild, and we have 21 birds in flight cages!
Each time I have been fortunate enough to release a bird, just before I open the basket, I send it off with a thank you to those who have made this possible: All our amazing volunteers, interns and supervisors whose hours and hours of hands-on, labor intensive, loving and patient care have led up to this: a little finch, a robin, a dove, or downy woodpecker will leave my hands and fly away where it belongs.
3 juvenile Barn Swallows
---
WEST NILE VIRUS
VERY IMPORTANT INFORMATION
And letter from the DNR
West Nile virus has been detected in a variety of bird species. Some infected birds, especially crows and jays, are known to get sick and die from the infection. Reporting and testing of dead birds is one way to check for the presence of West Nile virus in the environment. Some  programs rely on citizens to report sick or dead bird sightings to local authorities.
West Nile virus is transmitted to birds through the bite of infected mosquitoes. Mosquitoes become infected by biting infected birds. Some birds that are predators (such as hawks and owls) or scavengers (such as crows) may become infected after eating sick or dead birds that were already infected with West Nile virus.
Since West Nile virus was discovered in the United States in 1999, the virus has been detected in over 300 species of dead birds. There is no evidence that a person can get infected from handling live or dead infected birds. However, it is VERY important when working with a possibly infected live bird, to wear gloves. If the bird is dead, wear gloves to place the bird's carcass in a plastic garbage bag.
Letter to the Bird Center from Thomas Cooley (DNR)
Subject: West Nile Virus Positive Animals
Good Afternoon. In the past 2 weeks we have received results on 2 West Nile Virus positive animals; a Canada Goose from Macomb County and a Common Grackle from Bay County.  This brings the total number of West Nile Virus positive animals in 2016 to 3 from 3 counties:
Lower Peninsula
Bay County, Grackle,
Macomb County, Goose,
Tuscola County, white tailed Deer.
 If you receive calls from the public concerning neurologically abnormal avian species, please try to collect the bird, euthanize it if necessary, and submit it to the Lab as soon as possible for examination and testing. Depending on the species and the clinical signs observed, we may test the bird for Avian Influenza as well.
 If we confirm West Nile Virus in a species in a county, we may not test additional birds from the same species for West Nile Virus but we will still necropsy the bird if submitted for examination.
 If you receive a report of a die-off of bats, please collect 3-6 specimens and we will test them for Rabies and West Nile Virus and perform a necropsy.
If you receive a report of a neurologically abnormal mammalian species, please try to collect it, euthanize it if necessary (please do not damage the brain), and submit it to us as soon as possible.
Depending on the species, we will test it for a variety of diseases (Rabies, Canine Distemper, Eastern Equine Encephalitis, West Nile Virus, etc.).
Thank you for your assistance with the collection of specimens for testing.
I will keep you updated on West Nile Virus positive animals that we examine and if you have any questions, call me or send me an email.
Thomas M. Cooley  Wildlife Biologist/Pathologist  Michigan Department of Natural Resources  Wildlife Disease Lab  4125 Beaumont Rd.  Lansing, MI  48910
VOLUNTEERS NEEDED
We still need help with the move for Election Day.
Volunteers are needed on Sunday, July 31 to clean up at the BC after the move to the Ann Arbor Animal Hospital. We start to move out at 10am, so around noon would be a good time to grab the vacuum and broom and wipe down everything, including the bathroom in preparation for the Aug. 2 City Election.
Volunteers are needed 10am Wednesday, August 3, for the move from the Ann Arbor Animal Hospital to the Bird Center. THANK YOU FOR ALL YOU DO !
My granddaughter was looking out the sun room window and saw this marvelous sight: a male Red-bellied Woodpecker, a frequent visitor to our bird feeder, had brought his youngster for a snack!
OPEN SHIFTS  If you can take an extra shift, or even a couple hours, it will help the interns, and will be much appreciated, especially on Saturdays.
TUESDAY  no open shifts!!!
WEDNESDAY   7-9AM
THURSDAY 1-3PM   3-6PM
FRIDAY  7-9AM   9-12PM   3-5PM
SAT    ALL SHIFTS ARE OPEN
SUN      7-9AM   3-6PM   6-9PM
---
July 15, 2016
There are 140 birds at the Bird Center.
It's hot and we need rain. Inside the Center it's quiet and peaceful until….the Barn Swallows catch a glimpse of a volunteer walking by. They are fed every 15 minutes!! There are 6 juveniles and 5 smaller Swallows and all are doing well. Thank you wonderful volunteers!
Because they catch almost all their food in the air, the older Swallows are let out to practice flying around the room.
juvenile Barn Swallow
We also have a beautiful Horned Lark that was injured on a runway at the Detroit Airport and was brought to us by the Detroit Airport Wildlife Biologist.
LOOKING FOR VOLUNTEERS
Thank you everyone who has volunteered at the Bird Center this season! We are still short a few volunteers, especially on Saturdays. If you can pick up an extra shift please let us know. Even a hour or two is very helpful.
If you have not had a chance to volunteer with us yet, and would like to, please email
birdteamvolunteer@gmail.com
. We can get you set up with training and a shift to finish out our 2016 season.
Important information from our Director, Carol Akerlof
Hi All,
Warm humid weather is loved by coccidia.  A high number of fecals are now showing this parasite.  This means these birds cannot go to flight cages.To alleviate this situation sanitation must be improved.
Wash your hands after changing every basket or bucket.
 Tables must be cleaned daily or more frequently.
All baskets must be wiped out with damp toweling.
The floor must be vacuumed frequently (new filters purchased today.)
The AC filters must be cleaned regularly.
Garbage pails emptied at least twice daily.
Birds must be tested and medicated. 80% of fecals done today showed coccidia.  It is also possible that coccidia is showing resistance to the medications that we use. This is nothing new.  Summer weather brings this problem.  Cleanliness and a change in the weather should help.
Thank you for all you do to help!
Carol
Dove looking for a Ride to Florida or Georgia
We have a Mourning Dove that had a head injury and lost feathers on its head that will not grow back. We would like to release it in all year round warmer climate. If you know someone driving to Georgia or Florida, please contact Bailey.
LOOKING FOR EVEN MORE VOLUNTEERS !!!
August 2 is the Ann Arbor City Election.
Our building is a City polling place so we will have to clean and vacate the building and move all the birds to the Ann Arbor Animal Hospital. We're scheduled to begin moving into AAAH at 10 am on July 31st, and to begin moving out of AAAH on August 3rd at 10am.
We need about 1-2 volunteers to assist in moving birds on both July 31st and August 3rd, as well about 3-4 volunteers to help set up/tear down on both days. The more people we have, the faster it will be over and done!
The Bird Center will be closed July 31 and reopen August 3 at 2 PM.
We will not be accepting birds during that time.
Volunteers should call to see if you are needed. We will give you a number you can call.
Thank you to the Ann Arbor Animal Hospital for your generosity to The Bird Center.
Huron River Day was last Sunday July 10.
Volunteers Judy Yu and Samantha Oliver were at our table talking with kids and families about the Bird Center and the work we do. Quite a few people had no idea that there was a place where they could bring an injured or orphaned songbird.
Cynthia Olcott was painting faces and she had a long line of kids
waiting patiently in the hot sun. We think she painted about 75 faces, turning them into spidermen, fairies, dolphins, kittens, and monsters. WOW!
Thanks, Judy and Samantha and Cynthia !
OPEN SHIFTS
If you can take an extra shift it will help ease
the workload of everyone! Thank you.
FRIDAY 7/15
3-6 PM
SAT. 7/16
7-10AM
3-6PM
6-9 PM
SUNDAY 7/17
7-9AM
MONDAY 7/18
6:30-9PM
TUESDAY 7/19
4-5:30 PM
WED.7/20
7-9AM
3-6PM
Have a pleasant weekend with a shower or two!
---
There are 129 birds in our little building. Volunteers and interns are working overtime to make sure that all the newborns, fledglings, juveniles and adult birds have clean baskets, food and water.
The starlings take advantage of even the smallest bowls of water in their baskets and try to take a bath, so there is water everywhere, often right after the volunteer has given them a clean basket, new water, mealworms and fruit.
I asked two volunteers to say a few words about working at the Bird Center.
Here is volunteer Linda Whiteaker with her famous tower of (clean) buckets !
Linda has been rehabilitating birds as a volunteer since before the beginning of the Bird Center.   She has a passion for anything with feathers, or about to grow feathers.  Helping the birds is her way of giving back to nature, for what humans have taken.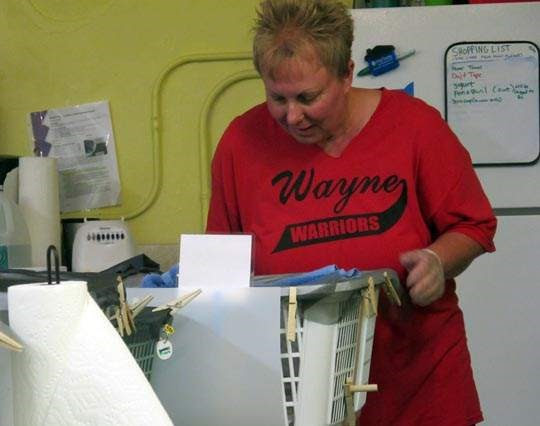 Volunteer Kim Harris
Last year was my first year volunteering at the BC.  I enjoy my time with the birds so I'm back for second year.  I have lived in Michigan my entire life and enjoy camping, kayaking, photography and bird watching.  Working at the Bird Center has been awesome and 4 hours seem to fly by.  But the baskets are clean and the birds are fed, just in time for bed.   Hope to return next year for a new season of birds.
JUST 2 MORE WONDERFUL VOLUNTEERS NEEDED  FOR THE HURON RIVER DAY EVENT!
 SUNDAY JULY 10    12 – 4PM AT GALLUP PARK
Sign up to help staff the Bird center table from 12-2 PM OR 2-4 PM
Have a wonderful Fourth of July holiday everybody!
Bird Center Volunteer Coordination Team